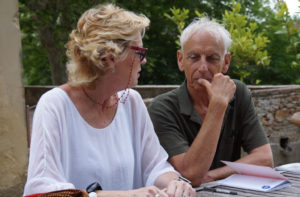 22-23 June 2019 Lousie Evans and I gave our first seminar together.
The Art of Relationship — Exploring the Language of collaboration and Love
The group was composed of a community of individuals living and working together and some of their friends…all of them in relationships, all of them interested in improving their partnerships.
The result was a deeply moving and inspiring event that has left us all with the desire to continue and develop this precious work.
Louise and I very inspired and committed to developing our collaboration and offering the fruits of our interaction and cross-fertilization to more people in the future.  Stay tuned!